CATEGORIES
Latest news
Contact us
ADD: South Suburb Cheng Li Automobile Industry Park,Suizhou City, HuBei Province
TEL: 0086 13177182229
FAX: 0086-722 -3801885
E-mail: specialtruck@vip.163.com
> Dump Truck
Dongfeng 6*4 dump truck for sale
new
red
tipper
CCC,ISO9001
Product description: dump truck,dumper,tipper,construction garbage truck,DFAC truck,tipper truck,dumper truck
PRODUCT INTRODUCTION
Specifications
Dongfeng 6*4 dump truck for sale
1. dongfeng dump truck
2. GVW: 24800kg
3. Drive Wheel: 6*4
4. ENGINE:290-340hp
Dongfeng 6*4 dump truck for sale
Product Photos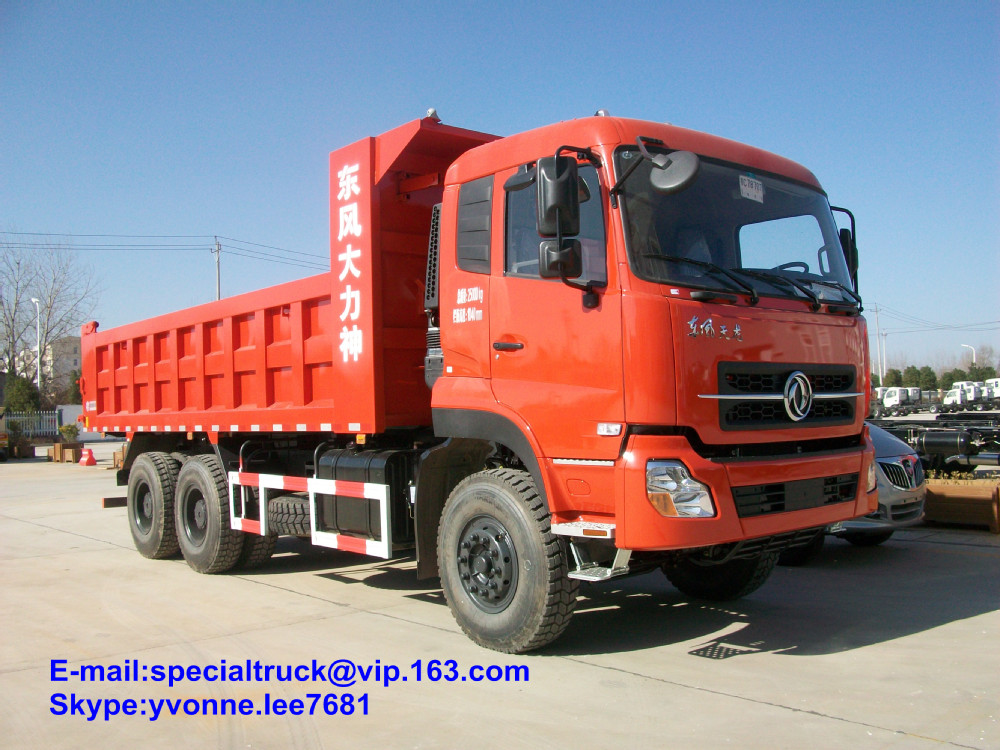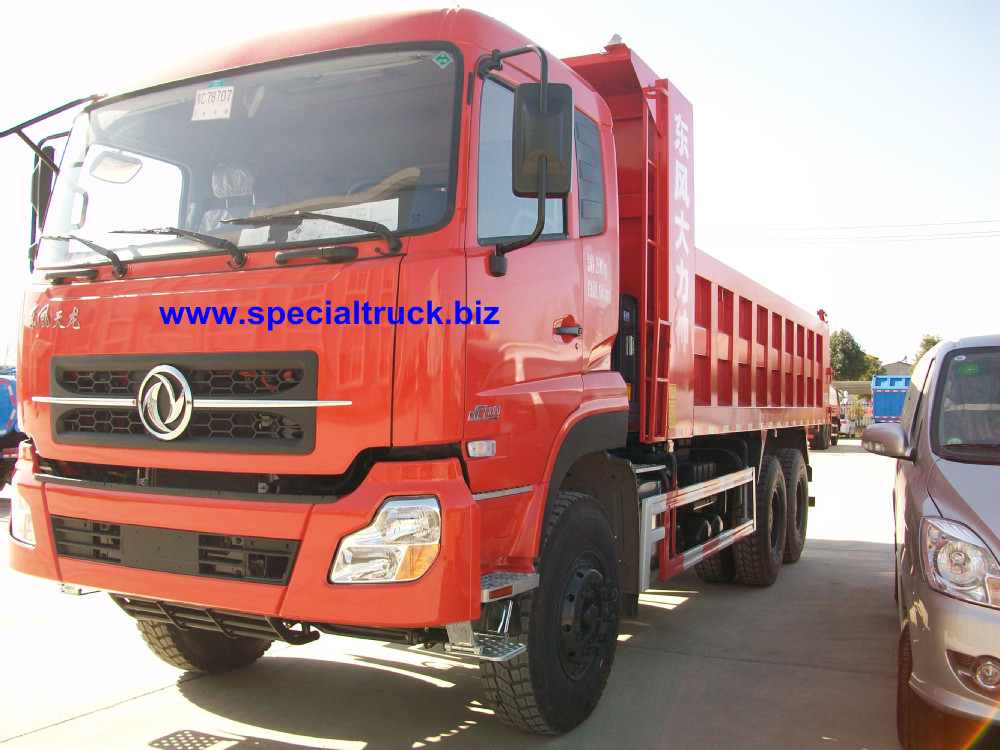 Dongfeng 6*4 dump truck for sale
Product Information
Main Parameter
Gross Weight(kg)
24800
Rated Weight(kg)
12370, 12305, 12630, 12565, 12870, 12805
Total Weight(kg)
12300, 12040, 11800

Overall Dimension

(L * W * H) (mm)

8550/8150/7950*2500*3250/3450

Cargobox Dimension

(L * W * H) (mm)

5800/5400/5200*2300*1100
Chassis Mode
DFL3251A1
Engine Parameter
Mode
dCi340-30, dCi290-30, ISLe340 30,
ISLe315 30, ISLe290 30, YC6M340-30,
YC6M290-30, YC6M340-31, YC6M290-33,
YC6M340-33, L340 30, L315 30,
L290 30, EQR340-33, EQR300-33
Power(kw)
250, 213, 250, 232,
213, 250, 215, 250,
215, 250, 250, 231,
213, 250, 221
Displacemint (ml)
11120,11120, 8900, 8900
8900, 9839, 9839,
9839, 9839, 9839,
8900, 8900, 8900
11120, 11120
Fuel Type
Diesel
Functional Parameter
Max Speed(km/h)
80
F/R Tread (mm)
2027/1820/1820,2040/1850/1850
Leaf Spring
9/10,9/13, 10/13,10/12
F/R Overhang (mm)
1500/1700, 1500/1500, 1500/1300
Axle Load(kg)
6900/17900, 6920/17880, 6910/17890
Approach/ Departure Angle(°)
30/25,30/26, 30/27
Tire Size
11.00-20, 11.00R20, 12.00-20, 12.00R20
Number of Tires
10
Wheelbase(mm)
3800+1350, 3900+1350, 4000+1350, 3800+1450
Number of Axles
3
Dongfeng 6*4 Dump Truck
is vehicles that could discharge by itself through the hydraulic or mechanical hoisting system.
It is also called the tipper. It is consisting of the chassis, hydraulic hoisting structure, cargo box, power take-off device, and other spare parts.
The dump truck is mainly used in engineering construction. It works with the excavator, the loader, the band conveyor, and other construction machinery together, making one whole line for loading, transporting, and discharging.
The tipper mainly used to transport soil, sand and bulk materials.