CATEGORIES
Latest news
Contact us
ADD: South Suburb Cheng Li Automobile Industry Park,Suizhou City, HuBei Province
TEL: 0086 13177182229
FAX: 0086-722 -3801885
E-mail: specialtruck@vip.163.com
> LED Advertising Truck
LED display truck for advertisement hot sale mini truck
new condition
silver
CCC,ISO9001
factory cost price
Product description: led display truck,led mobile advertising truck,led mobile truck,mobile display truck,mini truck of led display,led spotlights for truck,mini truck
PRODUCT INTRODUCTION
LED display truck for advertisement hot sale mini truck
Feature
This truck is an special vehicles used for advertising. LED advertising propaganda truck is the organic combination of cars and large LED display , the three dimensional video animation form, content rich, graphic and text information display in real time, which is a kind of new information communication truck for mobile advertising. Generally it is used for product promotion, brand promotion, draft activities, sales at the scene shows, sports events, concerts, etc. And it can be carried out for on site display, exchange, interaction, and can effectively obtain the largest advertising communication effect. The LED advertising propaganda truck made in our company is made of waterproof high definition full color P10 screen, gigabit streaming media control system, and can be customized according to customer requirements. Customers can choose two side screens, three side screens or subtitled intelligent 2 to 7 auxiliary light painting switching advertising light box. Customers can choose one or two sides LED screen lifting. What's more, both sides can choose to build 30 to 40 square meters stage.
1. One side equipped with outdoor full color led display,screen can be lifted up 2 meters. Another side equipped with a LED strip screen and scrolling light box. At the rear of vehicle, there is also a full color LED screen.
2. 5cm Composite steel box body, outside cold rolled steel sheet as extra extended stage platform, inside aluminum alloy plate floor, wood floor or high-grade vinyl floor.
3. 4 hydraulic legs, precise unilateral lifting-up LED screen, Electromechanical integration control system(on-board panel control system), easy to operate and maintain.
4. Circulating ventilation cooling system, can be equipped with air-conditioner according to your demands.
5. Safe-intelligent inner and outer power distribution switch net system.
6. High-performance super quiet diesel generator unit and multi-media playing system.
7. Computer intelligent switch 2-7 pair pictures and lamp.
8. Full waterproof highlight P10 true color car LED screen.
9. Gigabit streaming media control system.
10. Inner space can be a negotiation room; also can be other available usages.
LED display truck photos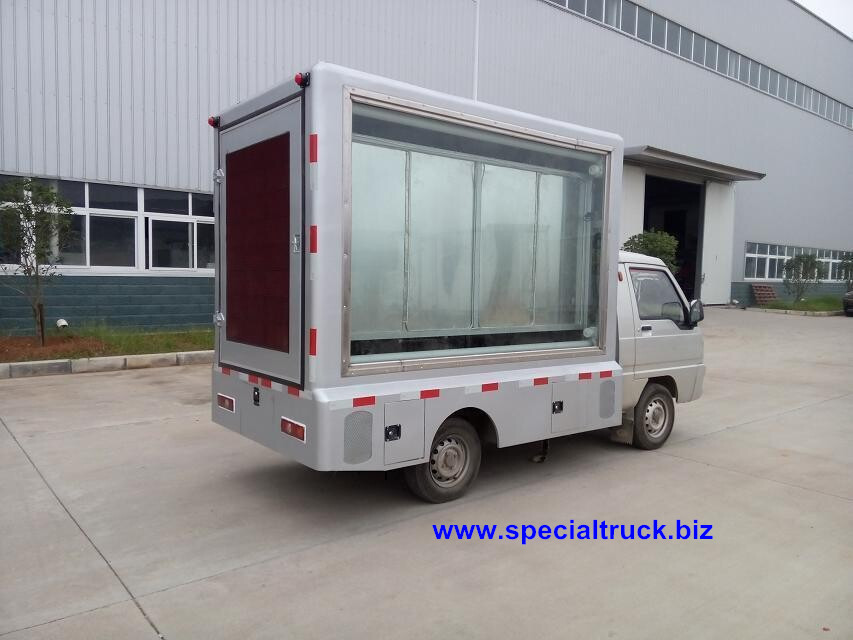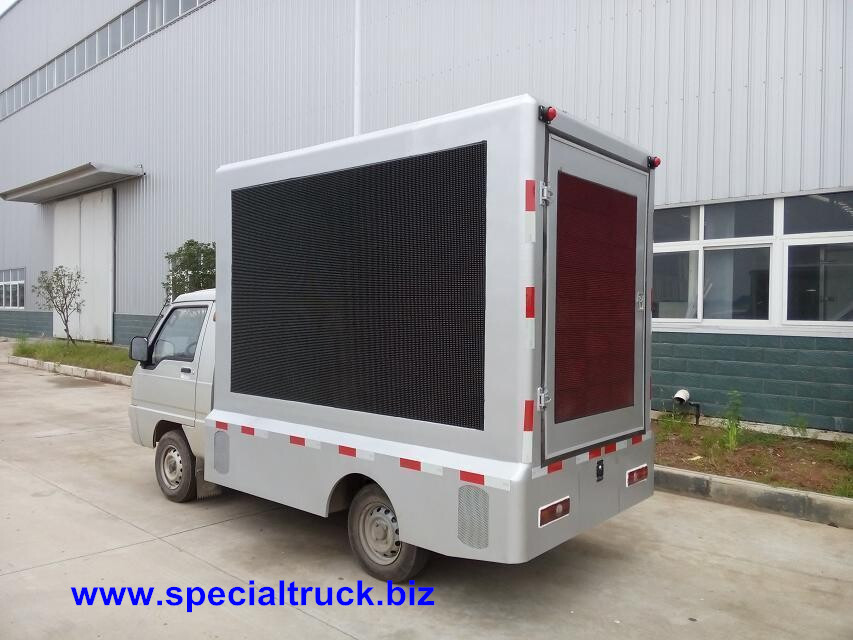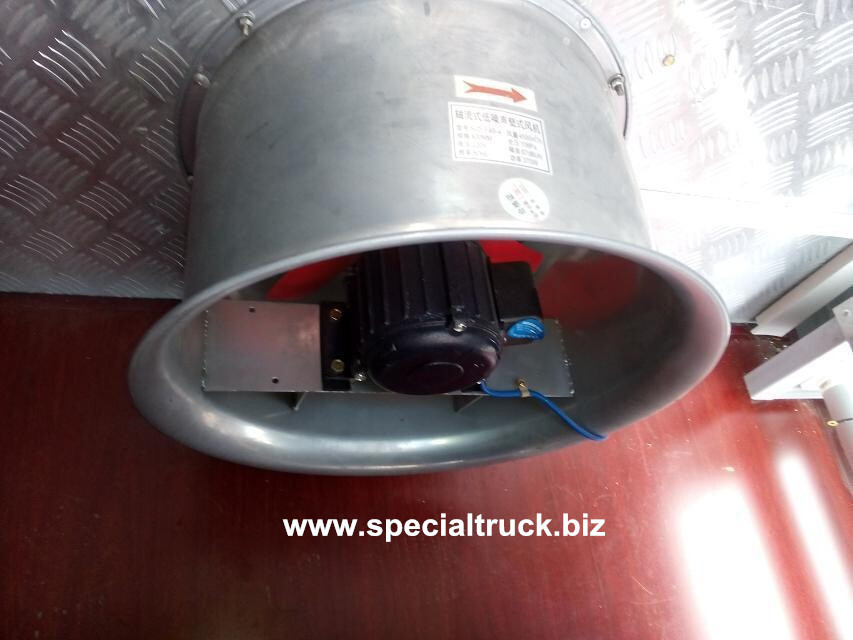 LED display truck specification
Item

Unit

Parameter

Product name

LED display truck for advertisement hot sale mini truck

Overall dimensions

mm

4200×1695×2405

Gross weight

kg

1810

Curb weight

1185,1300

Payload Capacity

495,380

Axle load

925/885

Wheelbase

mm

2500

Front/Rear track base

1280/1290

Front/Rear overhang

480/1220

Approach/Departure angle

°

58/21

Exhaust/Power

ml/hp

1012/53

Max speed

km/h

95

Engine model

JL466Q4

Electric system

24V

Traction system

4×2

Number of axles

2

Tire specifications

165/70R13LT,165/70R1379T

Number of tires

4

Operation control system

Electrically hydraulic control

Allowable passengers in cab

2

Vehicle Description




Section

Side choose to install LED screen and the location of the door position.

Rear optional LED screen and repair climbing pedal.

At the top of the right to install the strip shaped LED screen,

the rear mounting of the LED screen, left to install the entire LED screen.

Engine

gasoline engine

Production cycle

7-10 working days

warranty

12 month, from the date of supply
Please contact us as below if need :