CATEGORIES
Latest news
Contact us
ADD: South Suburb Cheng Li Automobile Industry Park,Suizhou City, HuBei Province
TEL: 0086 13177182229
FAX: 0086-722 -3801885
E-mail: specialtruck@vip.163.com
> Chemical Tanker
Chemical tanker truck for Hydrochloric acid dongfeng brand 10000 liters
new condition
CCC,ISO9001
factory price
whatsapp8613177182229
Product description: Chemical Truck,Hydrochloric acid car,chemical tanker,chemical tank,chemical tank truck,chemical tanker truck,chemical vehicle,tanker semi trailer,chemical truck for Hydrochloric acid,chemical tanker
PRODUCT INTRODUCTION
Chemical tanker truck for Hydrochloric acid dongfeng brand 10000 liters
chemical tankerFactual cubage According to user needs, different chassis, ( 2 -50 m3)
Meterial: 5mm(or 6mm) carbon steel interior lined with PE,. flow meter, pump etc is optional.
Tank can be separated to several unattached small tanks to fill different liquid .
Chemical liquid tank Truck also named chemcial liquid truck ,chemical truck, chemical tank truck, chemical transportation truck etc, our tank is lined with PE, which is resistant to many chemicals, like HCL, HNO3,H2SO4, KOH, NaOH, NaCl, Ethanol etc,
It can transport sulphuric acid, hydrochloric acid, nitric acid, liquid alkali and other kinds of chemical products with different concentration. The containers are made of different materials according to requirements of different customers; which adopt separately stainless steel, carbon steel, polyethylene and polypropylene, etc. according to the different medium contained; they are fabricated with the advanced technology domestically, with novel design and durable.
In order to meet the demands of different customers, independent storehouse can be selected according to the requirements of carrying one or several kinds of medium;
The tank body can optional adopt European design, the versatile Europeanstyle tank mouth has high safety coefficient, and is convenient for maintenance. The pneumatic bottom valve is light and easy for installation, operation, preventing liquid leakage and enhancing greatly the safety in transportation;
Provision of domestic wellknown brand of oil pump and fuel dispenser guarantees the function multiplicity of oil tank, satisfies different user demands;
Safety Caution Chemical liquid truck is mainly with explosive, flammable, toxic, corrosive and radioactive hazard,
have a certain potential hazards to our safety.To complete the transportation task is a strong and
professional technical work,even a little problem taken in the transportation, can cause serious
loss of life, property and environment.
Safety precautions:
1, It must be dangerous goods transportation qualified drivers and supercargo;
2. Vehicle safety status and safety properties qualified;
3.Must pay attention to details when loading the goods;
4.Driving carefully and smoothly, vehicle check one the way.choose proper route and have proper driving time;
5.Careful unloading, prevent pollution;Emergency treatment well-prepared.
Chemical tanker truck for Hydrochloric acid photos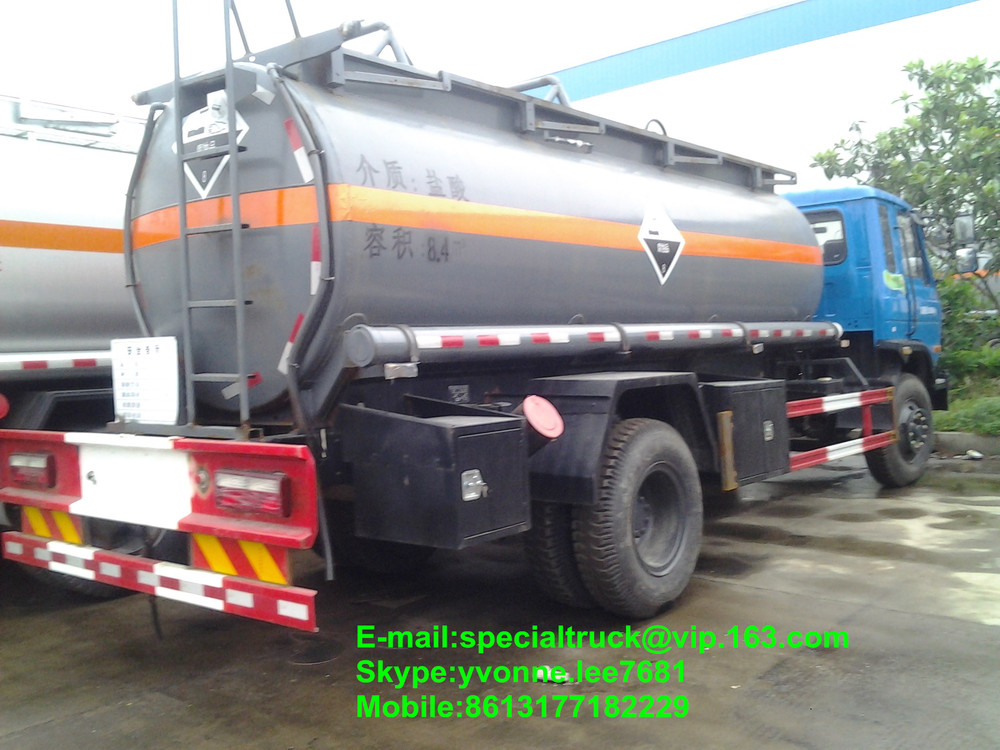 Chemical tanker truck for Hydrochloric acid dongfeng brand 10000 liters
Chemical tanker truck for Hydrochloric acid specification
Vehicle

Model

SCS5160GFWE

Overall dimension length/width/height(mm)

8300×2490×3300

Gross Vehicle Mass(kg)

15900

Curb weight(kg)

7400

Rated load(kg)

8305

Fuel Type

Diesel

Top speed(km/h)

80

Chassis

Brand

DONGFENG

Model

EQ1160GFJ

Drive type

4×2, LHD(or RHD)

Number of Axles

2

F/R Axle load (kg)

5950/9950

Wheel base (mm)

4700,5100,3950,4200,4500

F track base (mm)

1960

R track base (mm)

1860

Approach/Departure Angle(°)

23/17

F/R Suspension (mm)

1450/2350

Number of Tyres

6

Tyre type

10.00-20,10.00R20

Pieces of spring

9/10+8

Transmission

5 forward gear,1 reverse gear,manual mechanical type

Clutch

Uniwafer, dry clutch, hydraulic remote control

Braking system

Air braking, cam drum braking

Cab

One and half row non-longhead cab can turn over

Air-condition

Chose to fix

Engine

Model

ISDe180 40

ISDe180 40

YC6J180-42

ISB170 40

Horse Power(hp)

180

210

180

170

Displacement(cc)/Power(kw)

4500/132

6700/155

6500/132

5900/125

Emission

Euro4

Tank body

Medium

hydrochloric acid

Shape

Optional(Round or Square)

Dimension (mm)

5300xΦ1600(adjustable as your requirements)

Total Volume(L)

8.5

Tanker Body Material

5mm or 6mm Q235 carbon steel

End Plate

5mm or 6mm Q236 carbon steel

Manhole Cover

Carbon steel or Aluminum alloy API manhole cover. Diameter: 500mm

Bottom Valve

Aluminum API Pneumatic Bottom Valve

Discharging Valve

Diameter is 3 or 4 inches

Compartments

1-7 Optional

Production cycle

10-15 days

Warranty

12 month, from the date of supply
Please contact us as below if need: